Hi series module topic
Hi series module topic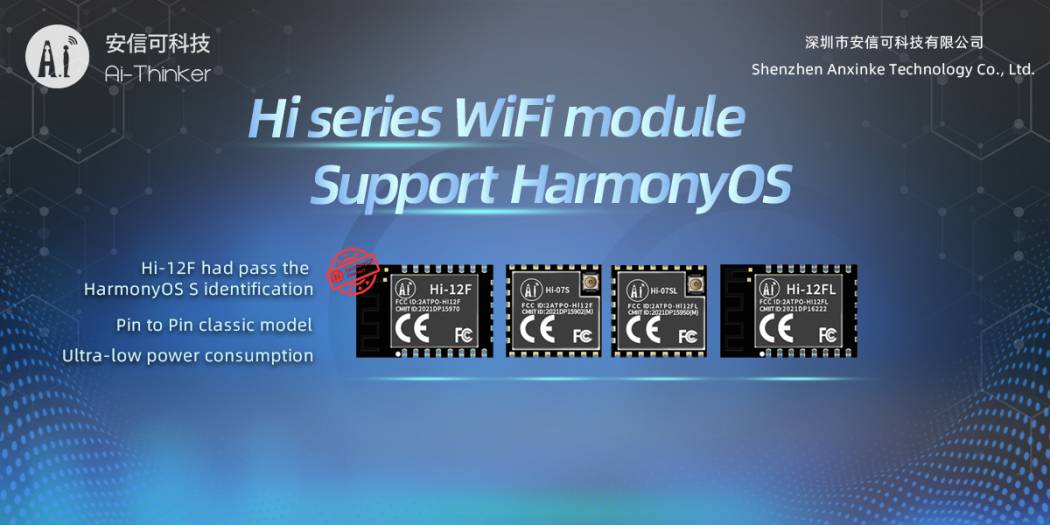 1.Overview
Hi series module is the Wi-Fi module developed by Ai-Thinker. It can be widely used in intelligent terminal products related to the IoT, such as smart homes, smart security, and smart cities.
These modules are equipped with Hi3861V100/Hi3861LV100 core processor chip. The chip is a highly integrated 2.4GHz low-power SoC WiFi chip that integrates IEEE 802.11b/g/n baseband and RF circuits. The RF circuit includes power amplifier PA, low noise amplifier LNA, RF balun, antenna switch, power supply Management and other modules. It supports 20MHz standard bandwidth and 5MHz/10MHz narrow bandwidth and provides a maximum physical layer rate of 72.2Mbit/s. The WiFi baseband of the chip supports Orthogonal Frequency Division Multiplexing (OFDM) technology, and is backward compatible with Direct Sequence Spread Spectrum (DSSS) and Complementary Code Keying (CCK) technology, and supports various data in IEEE 802.11 b/g/n protocols rate.
The Hi3861V100/Hi3861LV100 chip of module also integrates a high-performance 32-bit microprocessor, a hardware security engine, and a wealth of peripheral interfaces. The peripheral interfaces include SPI, UART, I2C, PWM, GPIO, and multiple ADCs. It also supports a high-speed SDIO2.0 Slave interface, the highest clock can reach 50MHz; The chip has built-in SRAM and Flash, which can run independently, and supports running programs on Flash. The module supports Huawei LiteOS and third-party components and provides an open and easy-to-use development and debugging environment.
2.Specification
---
2.1 Specification of Modules
2.2 Specification of development board
2.3 Schematic Diagram of Development board
3.Module Package and Certificate
4.AT manuals and application examples
5.Other information
Contact us
---
Shenzhen Ai-Thinker Technology Co., Ltd.
Support: support@aithinker.com
Business: overseas@aithinker.com
Tel: +86-15989589908 (same number on WeChat)
Address: Room 410, Building C, Huafeng Smart Innovation Port, Gushu, Xixiang, Baoan District, Shenzhen