ESP32-S2 series module topic
ESP32-S2 series module topic
1. Overview
The chip ESP32-S2 of the ESP32-S2 series module is equipped with an Xtensa® 32-bit LX7 single-core processor with a working frequency of up to 240 MHz. The chip supports secondary development without using other microcontrollers or processors. The chip has a built-in 320 KB SRAM/128 KB ROM, which can be externally connected to flash and RAM through SPI/QSPI/OSPI interfaces. ESP32-S2 supports a variety of low power consumption working states, which can meet the power consumption requirements of various application scenarios. The chip's unique features such as fine clock gating function, dynamic voltage clock frequency adjustment function, and RF output power adjustable function can achieve the best balance between communication distance, communication speed and power consumption.
ESP32-S2 series module ESP32-S2 chip provides a wealth of peripheral interfaces, including SPI, I2S, UART, I2C, LED PWM, LCD interface, Camera interface, ADC, DAC, touch sensor, temperature sensor and up to 43 GPIO . It supports chip peripheral expansion PSRAM, ESP-12K module can be equipped with PSRAM. In addition, it also includes a full-speed USB On-The-Go (OTG) interface that can support the use of USB communication.
Espressif's official website sells ESP32-S2 Beta chip and ESP32-S2 chip, but ESP32-S2 Beta chip is different from the final ESP32-S2, Beta chip is a limited engineering sample, so not all functions are available. Our company does not sell ESP32-S2 Beta chip modules!
2. Modules & Development Board
2.1 ESP-12K
The ESP-12K module is a WiFi module independently developed by Essence based on the ESP32-S2 chip. The core processor of the module ESP32-S2 is a highly integrated low-power Wi-Fi system-on-chip (SoC) , Designed for various applications such as the Internet of Things (IoT), mobile devices, wearable electronic devices, and smart homes. ESP32-S2 has industry-leading low-power performance and RF performance, supports IEEE802.11b/g/n protocol, integrates Wi-Fi MAC, Wi-Fi RF and baseband, RF switch, RF Balun, power amplifier, low noise Amplifier etc.
ESP-12K-KIT development board is a small development board based on ESP32-12K module development.
1. ESP-12K module specification: Chinese English
2. ESP-12K Module User Manual: Chinese
3. ESP-12K (ESP32-S2) NodeMCU development board download instructions: Chinese
4. ① Compare ESP32S2 and ESP32 development methods, and take you to get started with environment construction: https://blog.csdn.net/Boantong_/article/details/107044339
5. ② Ai-Thinker ESP-12K is directly connected to Apple's smart home HomeKit platform, easy voice Siri control: https://blog.csdn.net/Boantong_/article/details/107182525
6. ③ Ai-Thinker drive the WS2812B light board with ESP-12K to achieve colorful lighting effects: https://blog.csdn.net/Boantong_/article/details/107228774
7. ④ In the smart home lighting industry, how to understand PWM smooth dimming? https://blog.csdn.net/Boantong_/article/details/107466493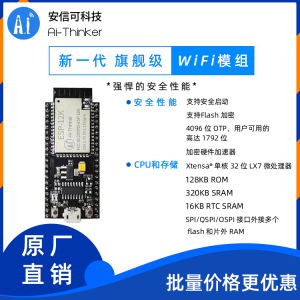 ---
2.2 ESP-12H
The ESP-12H module is a WiFi module independently developed by Ai-Thinker based on the ESP32-S2F chip (built-in 4MB SRAM). The core processor of the module ESP32-S2 is a highly integrated low power consumption Wi-Fi system-on-chip (SoC) is designed for various applications such as the Internet of Things (IoT), mobile devices, wearable electronic devices, and smart homes. Compared with the ESP-12K module, the module design is smaller and lighter;
ESP-12H-KIT development board is a development board based on ESP32-12H module development. Its development method is consistent with our ESP-12K development method;
ESP-12H module specification:Chinese EN
ESP-12H-KIT development board specification: Chinese English
Ai-Thinker's new module ESP-12H Quick Start Guide https://aithinker.blog.csdn.net/article/details/109176063