ESP8266 series module topic

ESP8266 series module topic
---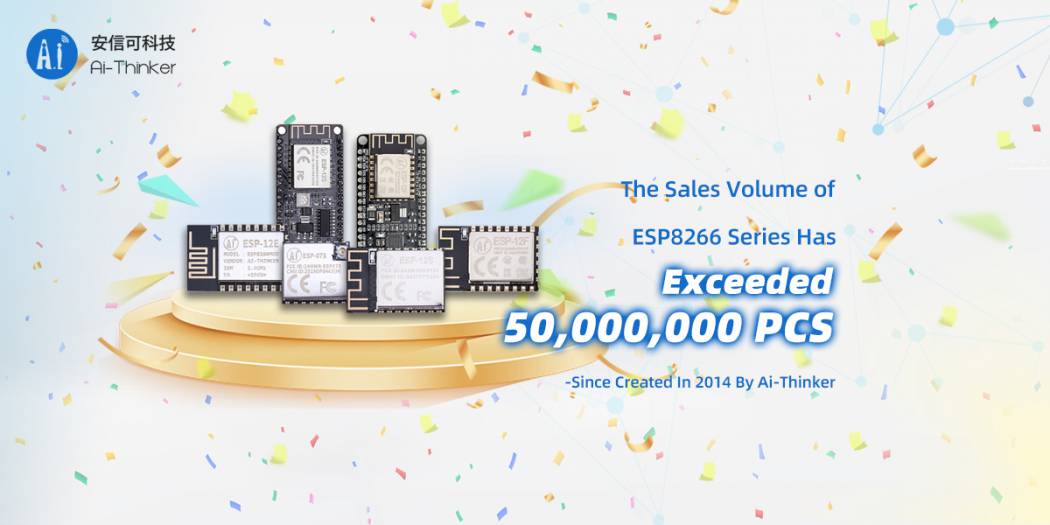 1. Overview
ESP8266 series modules are a series of low-power UART-WiFi chip modules based on Espressif's ESP8266EX developed by Shenzhen Ai-Thinker Technology Co., Ltd., which can be easily developed for secondary development, access to cloud services, and realize mobile phones 3/4G global control anytime, anywhere, accelerate product prototype design.
The module core processor ESP8266 integrates the industry-leading Tensilica L106 ultra-low-power 32-bit micro MCU in a smaller package, with a 16-bit compact mode, the main frequency supports 80 MHz and 160 MHz, supports RTOS, and integrates Wi -Fi MAC/BB/RF/PA/LNA, onboard antenna. Support standard IEEE802.11 b/g/n protocol, complete TCP/IP protocol stack. Users can use this module to add networking functions to existing equipment, or build an independent network controller.
ESP8266 are high-performance wireless SoCs that provide maximum practicability at the lowest cost, and provide unlimited possibilities for Wi-Fi functions to be embedded in other systems.
  Features
802.11 b/g/n

Built-in Tensilica L106 ultra-low power consumption 32-bit micro MCU, main frequency supports 80 MHz and 160 MHz, supports RTOS

Built-in 10 bit high precision ADC

Built-in TCP/IP protocol stack

Built-in TR switch, balun, LNA, power amplifier and matching network

Built-in PLL, voltage regulator and power management components, +18 dBm output power in 802.11b mode

A-MPDU, A-MSDU aggregation and 0.4 s guard interval

Wi-Fi @ 2.4 GHz, supports WPA/WPA2 security mode

Support AT local upgrade and cloud OTA upgrade

Support STA/AP/STA+AP working mode

Support Smart Config function (including Android and iOS devices)

HSPI, UART, I2C, I2S, IR Remote Control, PWM, GPIO

Deep sleep hold current is 20 uA, shutdown current is less than 5 uA

Wake up, connect and transmit data packets within 2 ms

Standby power consumption is less than 1.0 mW (DTIM3)

Operating temperature range: please refer to the specific model specification for details
---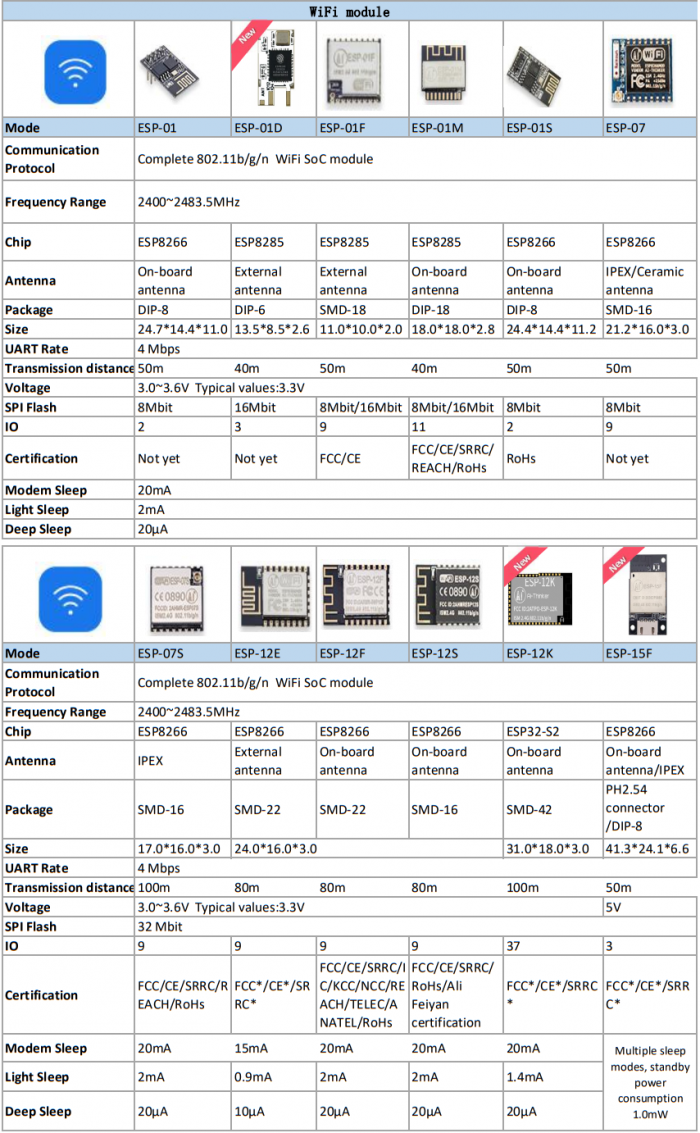 ---
Resources
Contact us