ESP32 series module topic

ESP32 series module topic
---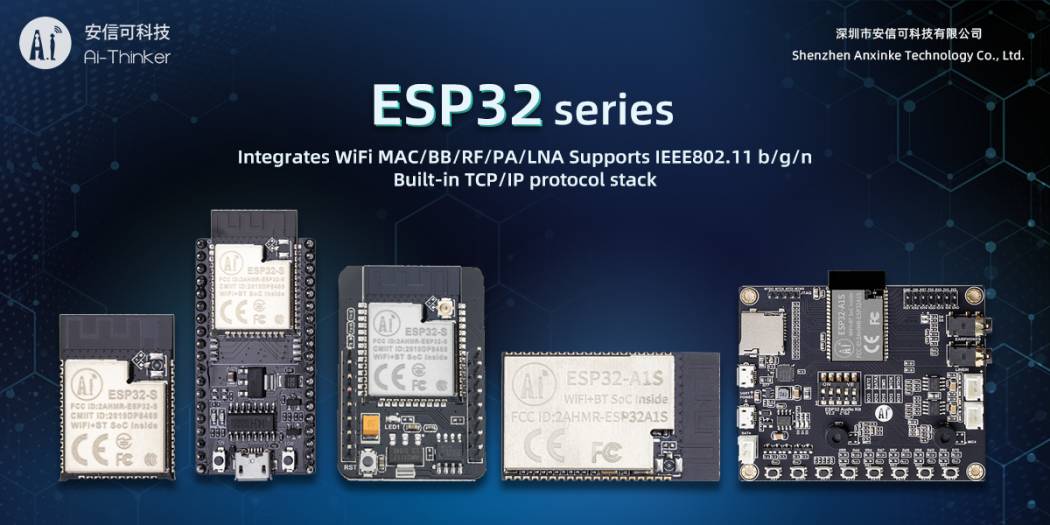 Overview
ESP32 series modules are a series of low-power UART-WiFi chip modules based on Espressif's ESP32 developed by Shenzhen Ai-Thinker Technology Co., Ltd., which can be easily developed for secondary development and access cloud services. Realize mobile phone 3/4G global control anytime, anywhere, and accelerate product prototype design.
---
ESP32 series module
The core processor of the ESP32 series module ESP32 integrates the industry-leading core processor of this module in a smaller package. The ESP32 has two built-in low-power Xtensa®32-bit LX6 MCUs. The main frequency supports 80 MHz, 160 MHz and 240 MHz. Support the secondary development of RTOS operating system, integrate Wi-Fi MAC/BB/RF/PA/LNA, and onboard antenna. Support standard IEEE802.11 b/g/n protocol, complete TCP/IP protocol stack and Bluetooth protocol stack. Users can use this module to add networking functions to existing equipment, or build an independent network controller.
ESP32 is a high-performance wireless SoC WiFi+Ble solution chip, which provides maximum practicability at the lowest cost and unlimited possibilities for Wi-Fi/Ble functions to be embedded in other systems.
---
ESP32S2 series module
The chip ESP32-S2 of the ESP32-S2 series module is equipped with an Xtensa® 32-bit LX7 single-core processor with a working frequency of up to 240 MHz. The chip supports secondary development without using other microcontrollers or processors. The chip has a built-in 320 KB SRAM/128 KB ROM, which can be externally connected to flash and RAM through SPI/QSPI/OSPI interfaces. ESP32-S2 supports a variety of low power consumption working states, which can meet the power consumption requirements of various application scenarios. The chip's unique features such as fine clock gating function, dynamic voltage clock frequency adjustment function, and RF output power adjustable function can achieve the best balance between communication distance, communication rate and power consumption.
ESP32-S2 series module ESP32-S2 chip provides a wealth of peripheral interfaces, including SPI, I2S, UART, I2C, LED PWM, LCD interface, Camera interface, ADC, DAC, touch sensor, temperature sensor and up to 43 GPIO . It supports chip peripheral expansion PSRAM, ESP-12K module can be equipped with PSRAM. In addition, it also includes a full-speed USB On-The-Go (OTG) interface that can support the use of USB communication.
Espressif's official website sells ESP32-S2 Beta chip and ESP32-S2 chip, and ESP32-S2 Beta chip is different from the final ESP32-S2, Beta chip is a limited engineering sample, so not all functions are available. Our company does not sell ESP32-S2 Beta chip modules!
Resources
Contact us