Rd-01 Module
Rd-01 Module
---
I. Overview
---
Rd-01 is a radar module developed by Shenzhen Ai-Thinker Technology Co., Ltd., which supports Wi-Fi&BLE and radar detection function.

The radar part is equipped with Sidian Micro's S3KM111L chip. It can detect whether there is movement or micro-movement of the human body in the area, and transmit the detection results in real time through Wi-Fi & BLE. Provides a visual configuration tool, which can easily configure the sensing distance range, sensing sensitivity in different intervals and unmanned delay time, etc. At the same time, it supports Wi-Fi&BLE for wireless configuration of radar parameters, which greatly improves the efficiency of construction and operation and maintenance, and is convenient and fast. It can be widely used in smart home, smart security, smart lighting, smart business and new energy charging/parking monitoring facilities.
Select table: Radar series parameter comparison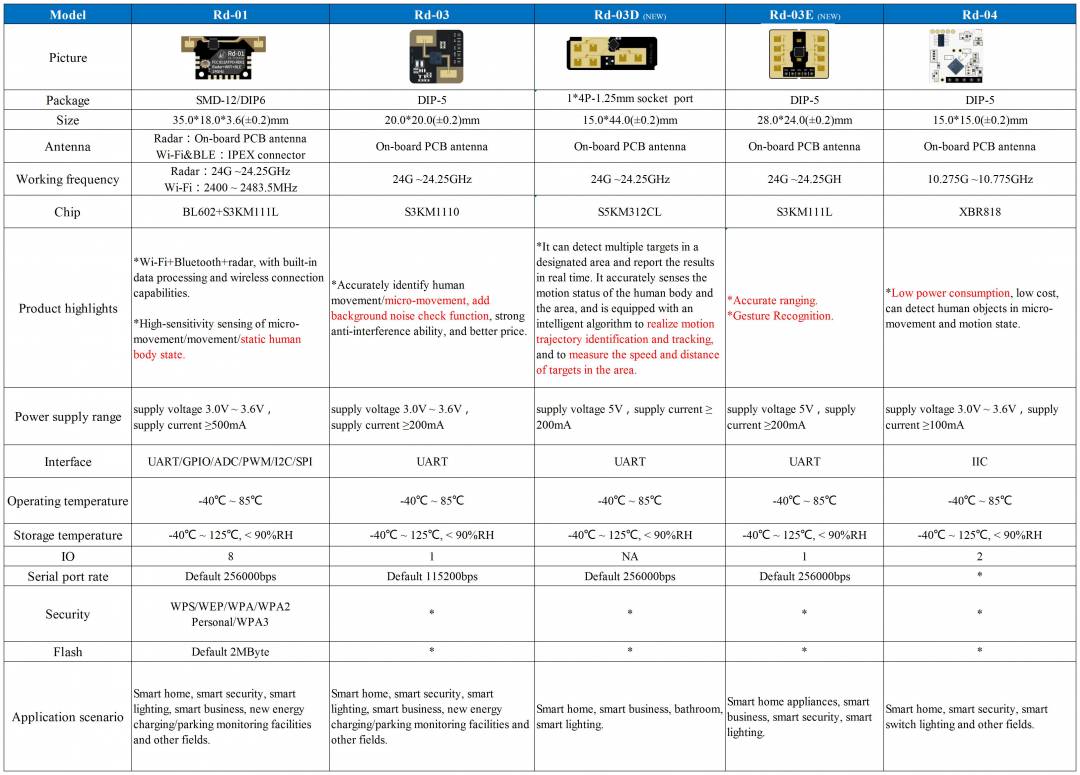 2. Module Features
Highlights:
WiFi+BLE+radar, collocation of sensing and connection, data uploading and remote control are easily realized.

Support human presence, micro-movement, movement and other status sensing, accurate recognition.

Supports three connection methods of patch, plug-in, and cable, which are easy to use.

Parameters such as distance and angle can be flexibly configured according to the scene, and the application scene is wider.

High sensitivity, accurate ranging, and wide detection range.

Small size, easy to install, plug and play.

Strong anti-interference ability, very cost-effective
Application scenario:
Smart home: Perceive the existence and distance of the human body, report the monitoring results, and intelligently control home appliances to operate on demand;

Smart security: sensor access control, sensor alarm, trigger linkage application with camera, etc.

Smart lighting: identify and sense the human body, and accurately detect the position, which can be used in public places or home lighting equipment such as sensor lights, bulb lights, table lamps, mirror lights, etc.;

Intelligent business: Interval sensing, to identify the approach or departure of the human body within the set distance interval; light up the screen in time, and keep the device always on when the human body is present;

New energy charging/parking monitoring facilities: can trigger charging pile screen, parking space monitoring, wireless charging to prevent human intrusion, etc.
3. Specifications
4. Secondary development information
5. Hardware package
6. Contact us